Uplift is a citywide GardenWalk initiative to spread beauty, diversity and possibility through gardens across the city of Cleveland.  Growth and gratitude projects offer welcoming activities and acts of gratitude at designated gardens. Gardenwalkers can share in the growth and gratitude built through relationships among those participating. Activities will be held before, during and after the GardenWalk tour dates.
For email updates, please sign up for our e-newsletter or follow us on Facebook. Thank you for your support.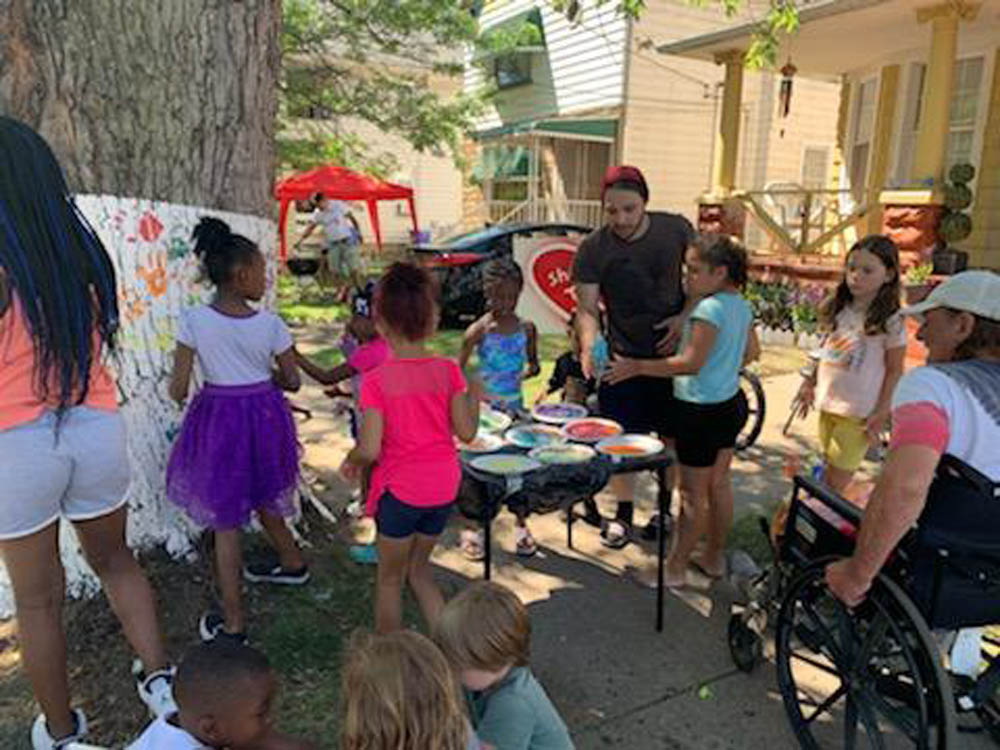 July 8, noon
West Park: 14701 Montrose Ave
Childrens' Creative Gardening Activity

Children's activity. Come and have your children decorate terra cotta pots and then start some easy to grow annuals in the pot. Great way to introduce children to gardening. The activity will take place in the garden of Ward 17 Councilman Slife (next door to Information Station).
July 9, 10 am    
Detroit Shoreway: 1349 West 65th St
Decorate Your Terra-cotta Pot
Join me all day to decorate a painted terra-cotta pot with lovely flowers and vines, cut from wallpaper. Each pot will then be sprayed with varnish for protection. Quick and easy! First-come first-served, as pots are numbered.
July 9, 10 am
Detroit Shoreway: 1875 W 71st St
Seed Packet Note Cards with Phyllis Bambeck
Phyllis will have seed packets and cards available to make take home note cards.
July 9, 10 am – 2 pm    
Detroit Shoreway: 7005 W Clinton Ave
Rock Painting    
Rock painting is an art of beauty, wellness, and fun. 
All supplies provided: rocks, paint, brushes, and sealer. Already designed rocks are available for you to take with you for your own garden. One per person, until supplies last. We hope you will join us!
July 9, 3 pm (second tour at 5 pm if demand for it)
Detroit Shoreway: Labyrinth Park
W 65th St & W Clinton Ave
Awesome Guided Native/Invasive Edible Plant Walk with Selena Awesome Vicario, Peter Rabbit Project
Join us for this interactive plant identification tour. Explore many of the native and invasive edible/medicinal plants that grow in our landscape. Learn the basic "do's and don'ts" of urban foraging and share tips and recipes about your favorite foraged foods. Practice your foraging and plant identification skills at this accessible activity. Plant walk route is wheelchair accessible, families are encouraged to attend (children must be supervised by an adult). Plant identification resources also available.
C
July 9,  at 12:30pm (90 min)
Detroit Shoreway: Labyrinth Park
W 65th St & W Clinton Ave
From Trash to Terrarium: Upcycled Urban Container Gardening Activity/Workshop with Selena Awesome Vicario, Peter Rabbit Project
This accessible, family friendly activity will teach you the basics of efficient home container gardening. Learn basic seed sprouting techniques and methods for regrowing food from scraps, seed saving strategies, and more. Also learn tips and tricks to repurpose/recycle common household items to create a beautiful garden. Some materials will be provided, or bring your own. Examples include: hanging planters from gallon jugs, seed starters from paper rolls, seed germination incubators and self-irrigating terrariums from recycled bottles. Container gardening resources also available.
July 9, 1 pm
Little Italy: Italian American Museum of Cleveland,
12111 Mayfield Rd
Italian Immigrant Gardens with Mary Mennitti, the founder of the Italian Garden Project.
July 11, 5 pm    
Fairfax: G's Urban Farm & Venue, 2229 E 97th St
Bee Keeping, Foraging & Victory Stretch
This begins a Tuesday and Thursday July VOW (Value Our Wealth) series on rejoicing with the gifts we have here in our Cleveland neighborhood. Come share what you know about foraging and beekeeping.
July 18, 5 pm    
Fairfax: G's Urban Farm & Venue, 2229 E 97th St
Opportunities in Urban Agriculture
Urban conservationist will discuss gardening and sustainable practices.
July 20, 5 pm
Fairfax: G's Urban Farm & Venue , 2229 E 97th St
Paint, Quiet Games, Victory Stretch
Paint over your old canvas in a picture frame, upcycle or bring a new canvas. Limited supplies. Quiet games  and Victory Stretch afterwards.
July 25, 5 pm
Fairfax: G's Urban Farm & Venue, 2229 E 97th St
Urban Farming    
Discuss planting, protecting, storing, conserving our food, with other gardeners. Share what you've done, are doing, or would like to do with others of like interest.
July 27, 5 pm
Fairfax: G's Urban Farm & Venue, 2229 E 97th St
Lets beautify and unify Cleveland
Bring your "Big 3" to the discussion about beautifying and unifying Cleveland: 1) Something you like about your neighborhood; 2) Something you'd like to do to help  your neighborhood grow and 3) Something you're doing in your neighborhood to help it grow.