We'd like to put a face on GardenWalk Cleveland and introduce you to some of the gardeners! More than 400
gardeners have opened their hearts and homes for you to explore and enjoy. When you visit them, please say hello and be sure to thank them for their generosity! It feels so good to know your neighbors!
Old Brooklyn: Patricia Kasik
3604 Buechner Ave
When she purchased her Old Brooklyn home eighteen years ago, Patricia Kasik was excited to finally have her own garden. An antique water pump from her parents' house served as an initial focal point for the space that now covers the entire backyard. Patricia has eliminated grass in favor of an exuberant purple and pink themed flower garden featuring fun DIY elements such as painted cement block planters and lattice shutters. Patricia's favorite pest deterrents include "Cat Scat" mats for young plants, wire mesh wastebaskets as cloches, Vaseline and cayenne pepper on her garden arch, and a good old-fashioned spray of water.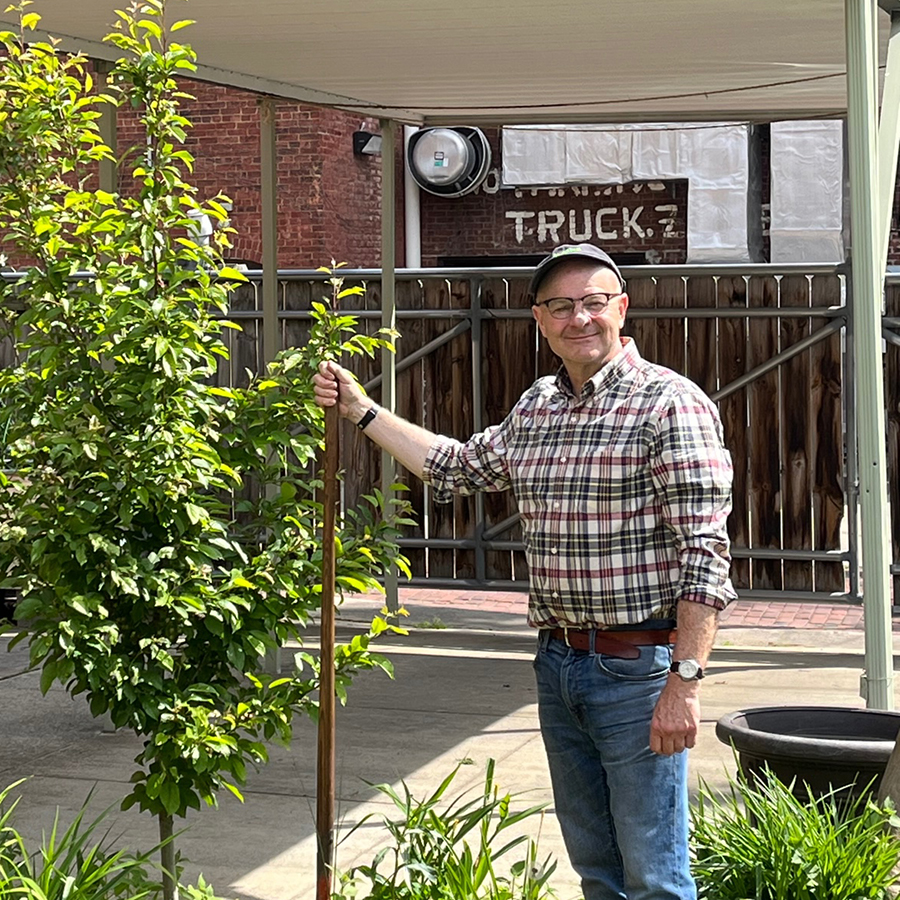 Ohio City: Tim Delpapa
2097 W 26th St

From a collection of vintage watering cans to giant tile stars from The Standard Building, history and a love of this area is evident in Tim's garden. While elements of the garden are from the 1860's, Tim began adding his touches in the 1990's.  The garden is known as Plum Stone Court thanks to plum trees from the original garden making a comeback and rambling stone walls.  Tim allows Mother Nature to make some planting decisions, adding to its delight. The garden boasts of an antique mailbox collection and discarded headstone fragments from the Monroe Street Cemetery, where Tim installed flowerbeds he tends every season.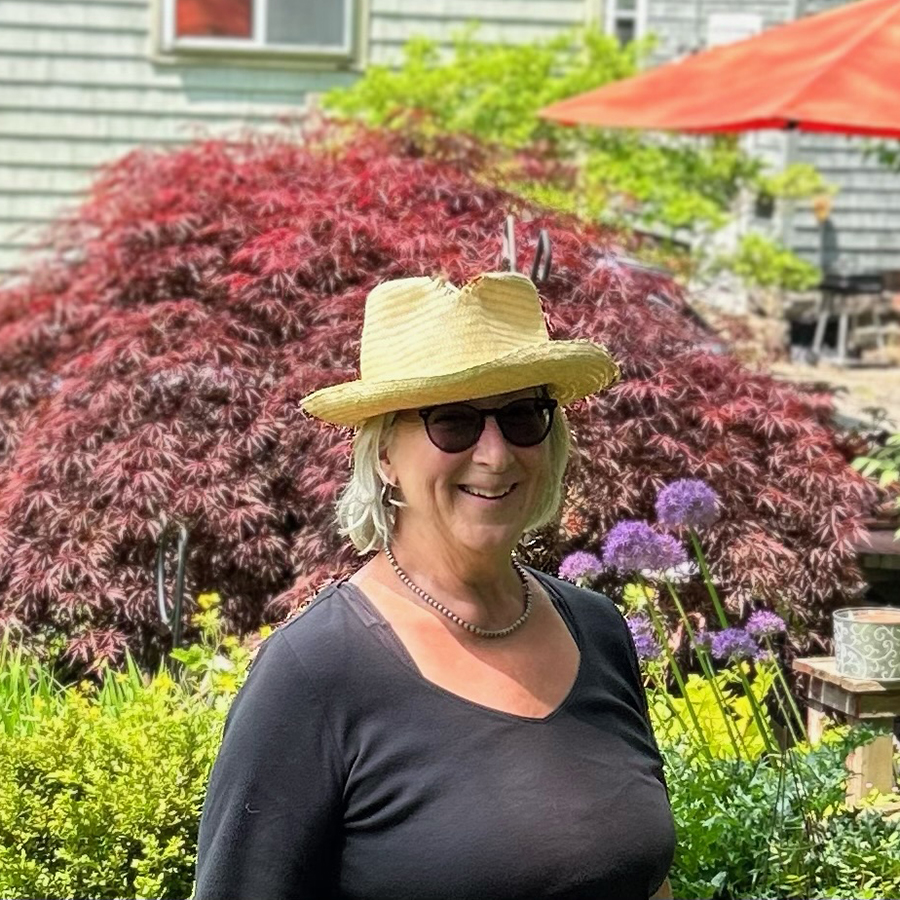 Little Italy: Maureen Dixon
2119 Random Road
Maureen's garden has been evolving for 25 years.   Her gardening experience started in childhood and will continue as long as she does. She shares both her successes and failures with all passersby and hopefully brightens their day. Creating even a small green space, brings beauty, calm and a sense of accomplishment. Inviting nature into your world serenades you with birdsong, luscious smells, colors and tastes and a sense of purpose. Maureen says "with firm adherence to organic methods and working with what you have, you can create a sanctuary of perfect proportions and have the comfort of a never ending to-do list. Now get dirty!"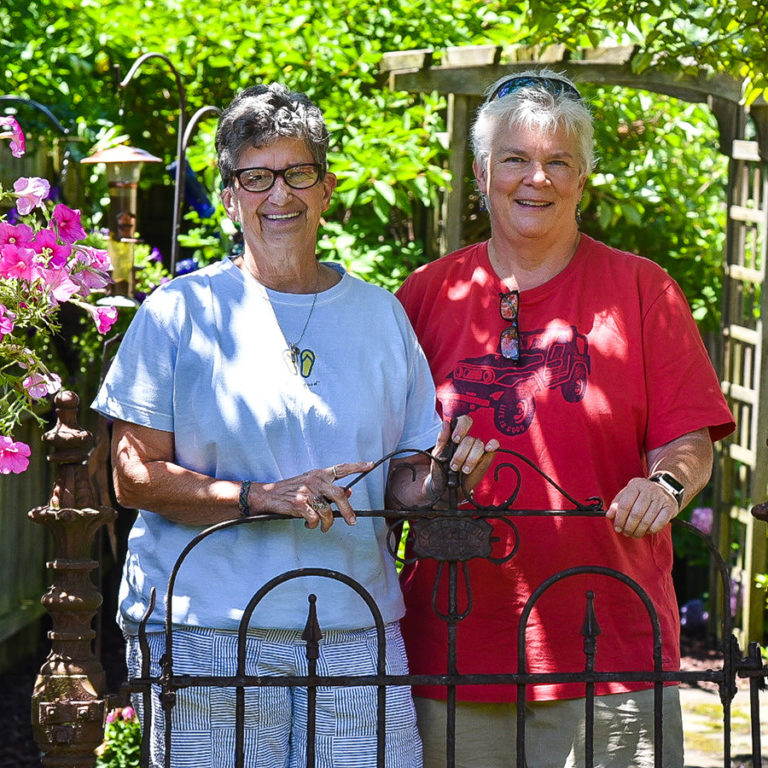 Broadway Slavic Village:
Marlane Weslian 
3270 E 55th St
Marlane Weslian has been gardening at her home for 45+ years. The garden theme echoes traditional flower gardens from the 1920s with geraniums and delphiniums, and a complement of trees, shrubs and roses that were planted in 1979. Marlane and partner Sue Rupert are still learning from their garden and lately are focused on succession planting to have flowers all summer long. A lesson she has learned over the years is if a plant isn't thriving, tear it out and plant something else. A second tip — enjoy flowers to their fullest, don't hesitate to cut a few and bring them inside. Sitting on the back steps savoring the flowers and surrounding shade is Marlane's happy place.
Collinwood: Lawrence Hill
884 Stevenson Rd
Lawrence's parents cultivated a love of gardening in him as a young boy. His gardens surround all four sides of his "House of the Suns" century home. There are three water features, a floating deck, two seating areas and three eating areas. He is particularly proud of the deck he built for entertaining and his waterfalls, which add a soothing sound to the beautiful surroundings. Lawrence's porch is a peaceful spot to sit where he enjoys visiting with friends and family. Lawrence has created intentional themes throughout his garden including a Moon Garden and plantings that pay homage to the Italian and Black heritages. A unique feature and the star of Lawrence's garden is a Death Lily, relative of the Corpse Flower which is joined by hosta and coral bell collections and a variety of hydrangea bushes.
Detroit Shoreway:
Nicole Kusold-Matheou
1321 W 69th St

I was influenced by both sets of grandparents love of gardening–Oma and Opa's fruit trees in their small yard off East 185th St. and my mom's parents' enormous suburban vegetable garden. When my husband and I bought our house in Detroit-Shoreway we began our garden, which has grown with our family that now includes two young children, a cat and six chickens. John, aged 3, says, "We like to garden because it's fun!" We have 9 raised vegetable beds, fruit trees, berry bushes, and a large raspberry hedge. We value sustainability and are constantly learning, getting inspiration from sources like "Epic Gardening" on YouTube and Instagram.
We delight in the sense of accomplishment that comes from watching it grow and thrive.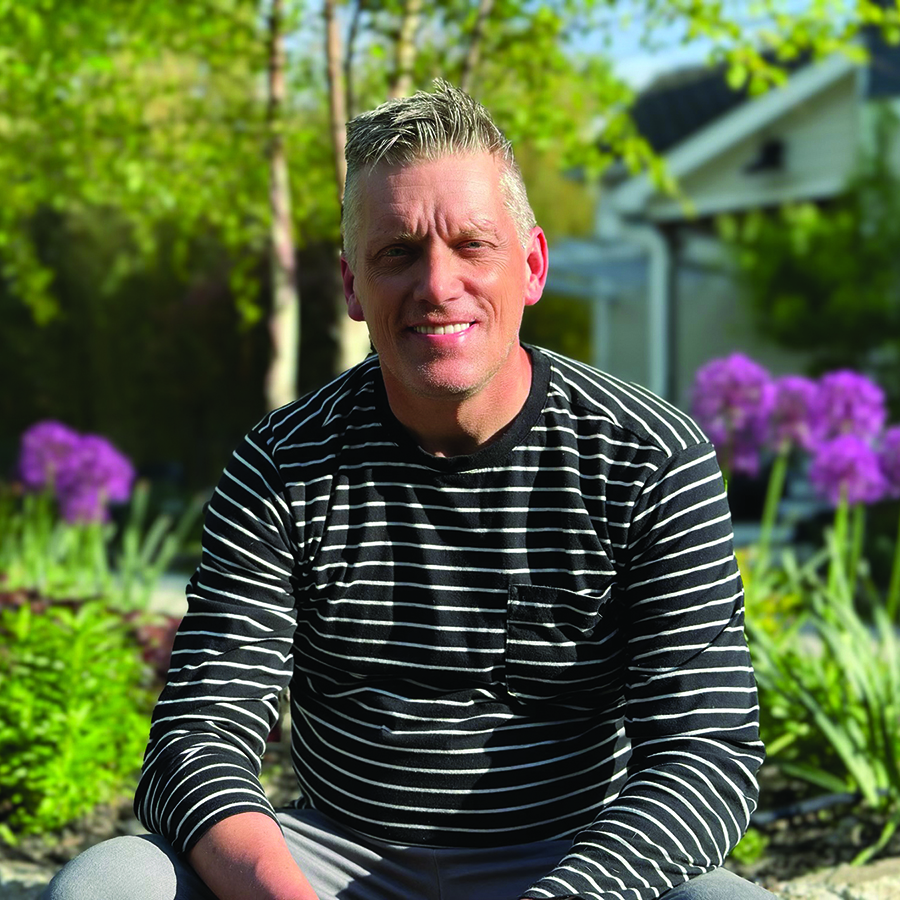 Clifton Baltic: Edward Brede
1441 W 110th St
This is Edward Brede's 3rd year on GardenWalk, participating has become a good motivator to get things done in the yard. The garden includes a lot next door which was just lawn and a few garden beds when he moved in. Over the years Edward created harmonious outdoor spaces–planting garden, lawn, and reflecting pool–to reduce the amount of high-maintenance lawn, welcome pollinators, and provide plenty of cut flowers. After 2 years of battling the groundhogs, he's taking this year off from growing tomatoes. Edwards garden tip–Plants are expensive! Talk to your neighbors and exchange plants. Facebook Marketplace is also a good source of plants. 
West Park:
Sally Ratcliffe & Michael Varga
Match Made in the Garden
When Sally Ratcliffe and Michael Varga realized they both loved gardening, they knew they were the perfect match. The year they were married they grew a patch of zinnias to use as wedding flowers and they continue to grow them every year. They love sharing the positive energy and quirky nature of their garden, and especially love the way it comes alive and becomes interactive when children visit. Sally and Michael enjoy sharing and learning gardening tips and tricks and are constantly experimenting with new things, such as the grafting twenty-five kinds of apples onto one tree!