This year we'd like to put a face on GardenWalk Cleveland and introduce you to some of the gardeners! Nearly 400
gardeners have opened their hearts and homes for you to explore and enjoy. When you visit them, please
say hello and be sure to thank them for their generosity! It feels so good to know your neighbors!
Ron Shelton — Fairfax
Ron Shelton's Fairfax home is the first he has been able to call his own. After years of living in apartments, he's finally able to expand his garden into an actual yard. Shelton grew up helping his mother tend to her flowers and has since been inspired to create a garden and a life that centers around sustainability. For Ron, "being sustainable is a way of life that used to be the norm, and I'm really trying to get back to that." His favorite part of gardening, other than what he calls "therapeutic weed-pulling," is finding the sense of community. Ron has met so many wonderful people, has learned many tips from more experienced gardeners, has traded plants and has made dear friends through the community of gardeners in his neighborhood. He has fallen in love with the community of friends and neighbors that he has found through gardening. "You know, I love the end result, but I really love the process."
Kim Young — Broadway Slavic Village
Kim Young was always interested in house plants and flowers, but it wasn't until 2019 that she really got invested in gardening, launching "Kim Cares", an initiative to give neighbors resources to begin their own urban gardens. In 2020 she started Barkwill Buzz, a handkerchief- sized community garden complete with beehive in the North Broadway neighborhood, learning from her work with Linda's Bee Farm which taught neighbors about the importance of pollinators and bees. Kim is a community leader, an activist, and an educator who believes in passing down knowledge and loves including her grandchildren gardening. For Kim gardening is "a gift from God. You can take one seed from a tomato and make a hundred plants by gardening." Kim is looking forward to GardenWalk because she loves interacting with the gardening community, seeing what everyone has been up to and sharing what she has been working on. "My goal is to turn a food desert into a food forest. And the only way to do that is through partnership!"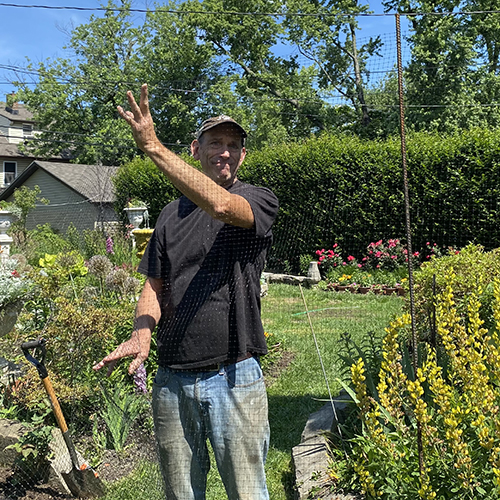 David Gouchat — Clifton-Baltic
As the owner and baker at Truffles in the 1980s, David Gouchat installed colorful window boxes and added densely planted flowers to the tree lawn which helped attract customers. Fast forward 30 plus years, David is still practicing his art through gardening in his home garden using a design grounded in French & Parisian themes. A row of hornbeams along the side of the yard echoes the allées (walkways) of French chateaus. Large, planted urns evoke the flower-filled urns Louis XIV presented to new mistresses. David enjoys the social part of GardenWalk and getting new ideas. Last year David saw some zinnias he was taken with, this year he started several flats of that variety from seeds. David's tip: Create deer fencing with tall tomato stakes and loose nylon netting. Use DeerOff spray every evening to keep the deer away from those areas that can't be fenced.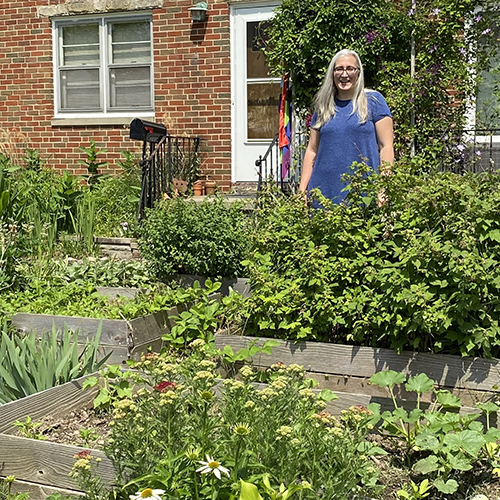 Lisa Watson — Old Brooklyn
This is Lisa Watson's first year on GardenWalk. Nine years ago, she moved into the 1946 bungalow that her grandfather himself built and had been in her family ever since. Some families she remembers on the street when she was a child are still there. Gradually Lisa replaced the front lawn with raised beds taking advantage of full sun, and in 2020 she went completely no-mow. Lisa is a budget gardener, 90% of her plants are things people gave her (Old Brooklyn has a FaceBook gardening page to share plants) or nursed back to health from the Lowes clearance rack. Lisa's words of wisdom for newbie gardeners, "Try It! You can't really mess it up, if you don't like it, you can just dig it up and try over."
Marc Ruckel — Detroit Shoreway
I grew up in a family of gardeners and gardening has always been a part of my life, starting with zinnias when I was 4 or 5. My father grew vegetables and my mother nurtured perennials, Iris and narcissus. I've spent most of my life working in the nursery industry. When I bought 6212 W Clinton in 2002, there was only grass and an ancient lilac bush in the back yard. What you see now is a result of uncounted hours of pleasure, frustration, success and failures; which is the nature of gardening, and ultimately lots of enjoyment.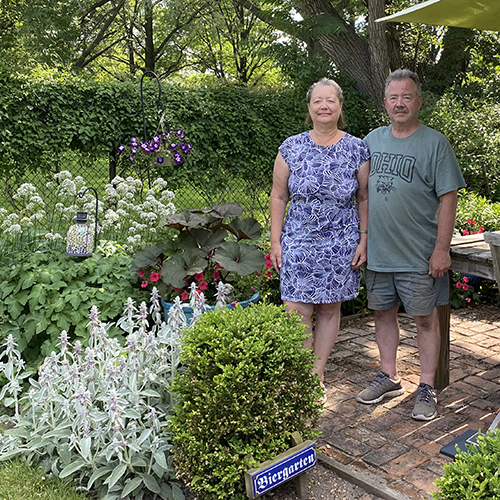 Rachel Carey — West Park
Rachel Carey and husband Brad have been gardening at their West Park home since 2012. Rachel learned gardening through family visits in the mountains of West Virginia. They are budget gardeners, getting started with cheap out-of-season plants they nurtured through the winter in a little backyard nursery they made. Rachel takes full advantage of secondhand sales, Craigslist and DIY projects to create their lovely garden retreat. Plant sharing is also key. Rachel advises, "if you see a plant you are interested in, ask if people are willing to share, they usually are." Rachel can walk down the street and point out gardens that are now on GardenWalk where she has inspired her neighbors and shared her plants. "Being out in your outside space with all the fragrances and colors, talking to the plants, it's really important, restful."