Tony Zajac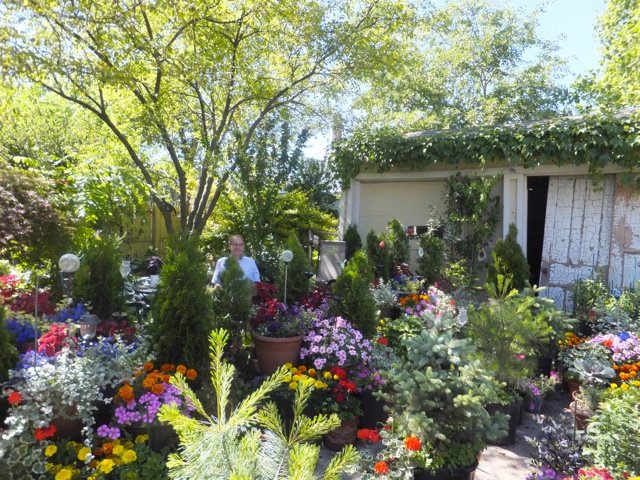 The house on Claasen looks like any other house on the street, but when I start walking down the drive I glimpse the magical kingdom in the back yard.  Tony Zajac has lived in this house for the past twenty years. During that time he has transformed the back yard into a tropical paradise with hundreds of flowers and shrubs.
Anthony's love of plants and gardening started at Harvey Rice elementary school in the 4th grade.  He had his own 20'X25' plot where he grew vegetables and some annuals. He tended this garden every summer until the 7th grade.
Tony's back yard is approximately 35' wide by 35' deep. In that space he has 145 annuals and 50 small evergreen trees in pots, 10 roses in the ground , 3 clematis vines, dozens of hostas and a medium size Japanese Maple tree.  A snowdrift crab apple tree shades the back yard. The annuals include three kinds of impatience, lobelia, licorice plant, supertunias, several different colors of coleus, snap dragons, alyssum, vinca vines and Asiatic lilies. Tony uses no chemicals on his plants. This year he is experimenting with growing raspberries and blueberries in pots.
This garden is a must see in Slavic Village. Container gardening is a creative way to transform a concrete slab, driveway or any small unsightly corner of a garden.